Date: June 18-29, 2018
Ages: 18-30
Call: 888-772-7732 ext. 742
"The tour is like 4 years of Bible college wrapped up into 12 exciting days!"
The Israel Impact Tour is our amazing, one-of-a-kind, power-packed 12-day young adult tour to Israel—the land of the Bible. This tour is uniquely designed for outrageous fun and spiritual impact. You'll ride a camel, snorkel in the Red Sea, hike Masada, sleep in a bedouin tent, float in the Dead Sea, get baptized in the Jordan River, wade through water in Hezekiah's tunnel and take a boat ride on the Sea Of Galilee. And if you think that's cool, you'll also learn so much from the Bible as you worship in Jerusalem, pray at the Wailing Wall, enter the Garden Tomb, seek God about your future on the beach of the Mediterranean, and commit to His will in the Garden of Gethsemane. You'll come back with a clear understanding of Jerusalem and Israel on three key levels: 1) the biblical/historical, 2) the current geopolitical, and 3) the future/prophetic. You'll not only make new friends, you will meet Israelis from all walks of life.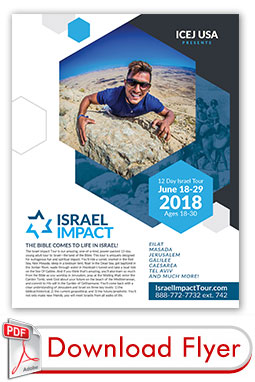 Download the 2018 Israel Impact Tour Flyer (pdf) 1.5 MB
Download the 2018 Israel Impact Tour Application Form (pdf)
Download the Pastoral Recommendation Form (pdf)
Tour Itinerary
DAY 1: Monday June 18, Early Morning Departure Los Angeles 7:45
DAY 2: Tuesday June 19, Arrive Tel Aviv 10:05, Depart Ben Gurion Airport 12:00, Independence Hall, Dinner/Group Meeting, Overnight: Tiberius
DAY 3: Wednesday June 20, Mt of Olives, Gethsemane, Peter in Gallicantu, Antonia Fortress, Via Dolorosa, Church of the Holy Sepulchre, Garden Tomb, Overnight: Jerusalem
DAY 4: Thursday June 21, City of David, Hezekiah's Tunnel, Pool of Siloam, Southern Steps, Rabbi's Tunnels, ICEJ HQ, Ben Yehuda Street, Overnight: Jerusalem
DAY 5: Friday June 22, Israel Museum, Yad Vashem, Western Wall, Upper Room, Shopping: Christian Quarter, Overnight: Jerusalem
DAY 6: Saturday June 23, Qumran, Dead Sea swim, Masada, Drive to Eilat, Overnight: Eilat
DAY 7: Sunday June 24, Hike: Solomon's Pillars, Timna Park/Tabernacle, Red Sea snorkeling, camel rides @ tents, devotions after dinner, Overnight: Kfar Hanokdim
DAY 8: Monday June 25, Nazareth Village, hike Mount Arbel, Yardenit baptisms, Overnight: Tiberias
Day 9: Tuesday June 26, Capernaum, Galilee boat ride, St. Peter's fish lunch, Beautiful Land Project, Bora Bora Beach, Overnight: Tiberias
DAY 10: Wednesday June 27, Mt of Beatitudes, Tel Dan, Caesarea/Kunitra Overlook, kayaking, Overnight: Tiberius
DAY 11: Thursday June 28, Mt Precipace, Mt Carmel, Caesarea, Farewell Dinner
DAY 12: Friday June 29 Los Angeles group overnight Jaffa, depart Ben Gurion Airport 11:50 and arrive Los Angeles 21:02 via Toronto.

12-Day Land Package & Round-Trip Flight from Los Angeles to Tel Aviv
• Land Package ONLY, 9 nights, includes transport to Airport at 21:30 on June 28 (or scheduled on your own) – $1,675
• Land Package ONLY, 10 nights, includes transport to Airport at 8:45 on June 29 (or scheduled on your own) – $1,775
If Land Only Package is chosen, your scheduled flight must land no later than 10:00 on June 19, 2018, OR, if arriving in Israel earlier you will connect with the group at the arrival hall of Ben Gurion Airport between 08:00 – 10:00 that same day
• Land Package AND Roundtrip International Airfare from Los Angeles, California (LAX) to Israel – $3,279
Inclusions:
– 9 or 10 nights depending upon international flights
– Half board (full breakfast and dinner)
– Roundtrip international airfare (with Land & Roundtrip Airfare package)
– Transfer from the airport to the first hotel and from the last hotel back to the airport
– All tips and gratuities
– Licensed Israeli tour guide, touring entrance fees, outreach activities and lecture material
– Air-conditioned bus typically with limited Wi-Fi
– Welcome pack
Application Process
In order to apply, potential participants must be approved by the pastor/leader of their congregation. Download the Pastoral Recommendation Form (pdf)
Please note:  Applicants can type directly into the Israel Impact Tour Application (pdf) form and save it to email back to us, or print out and mail in with tour deposit.
Insurance
Proof of medical insurance coverage while in Israel is required.
Passports and Visas
A valid passport is required for all tour participants and the passport must remain valid for at least six (6) months after the scheduled return of the tour (January 2, 2019). If an entry visa is required, the participant is responsible for obtaining that him or herself. No visa is required for US or Canadian citizens traveling to Israel.
What do I bring on the trip?
A trip manual will be sent to all participants 4-5 weeks prior to departure.
Is there Wi-fi?
The hotels and most tour buses are equipped with wi-fi.
Do you have any fundraising ideas for my trip?
Click Here to view Fundraising Ideas (PDF)
If you have question please call 888-772-7732 ext. 742 or email us through our contact form by clicking here.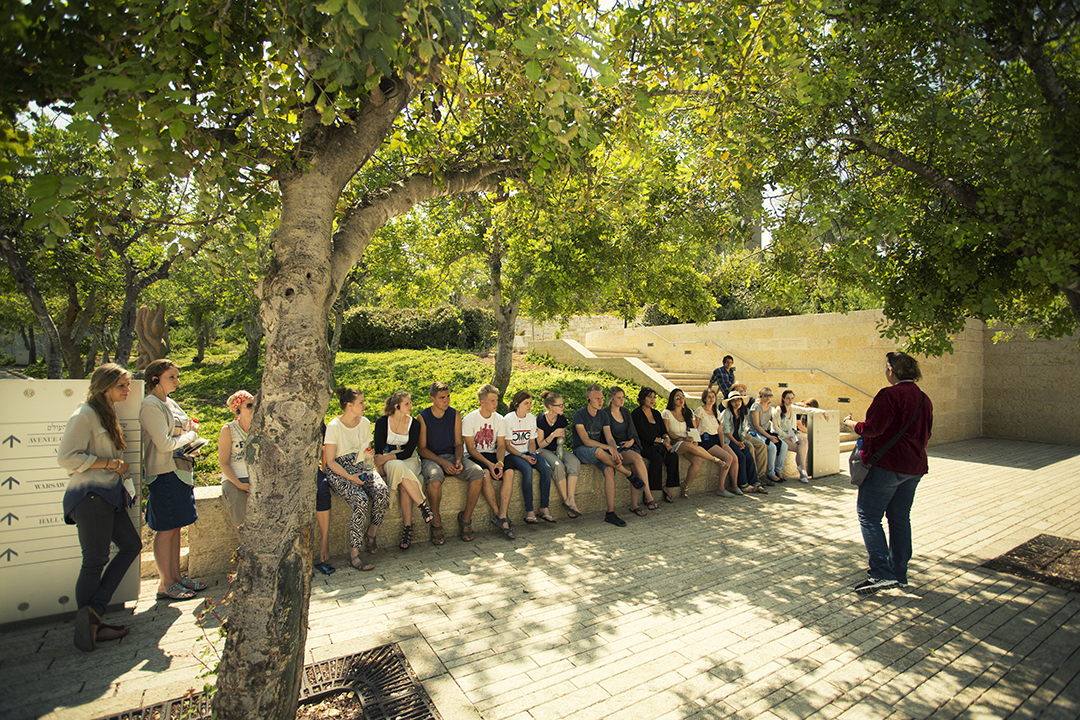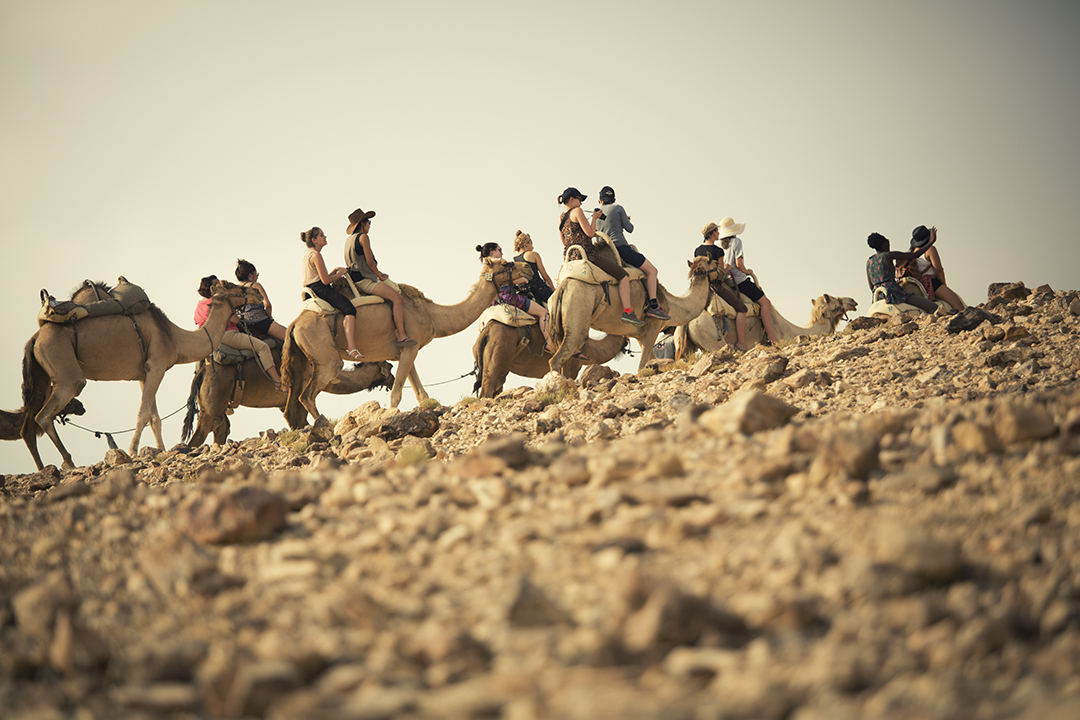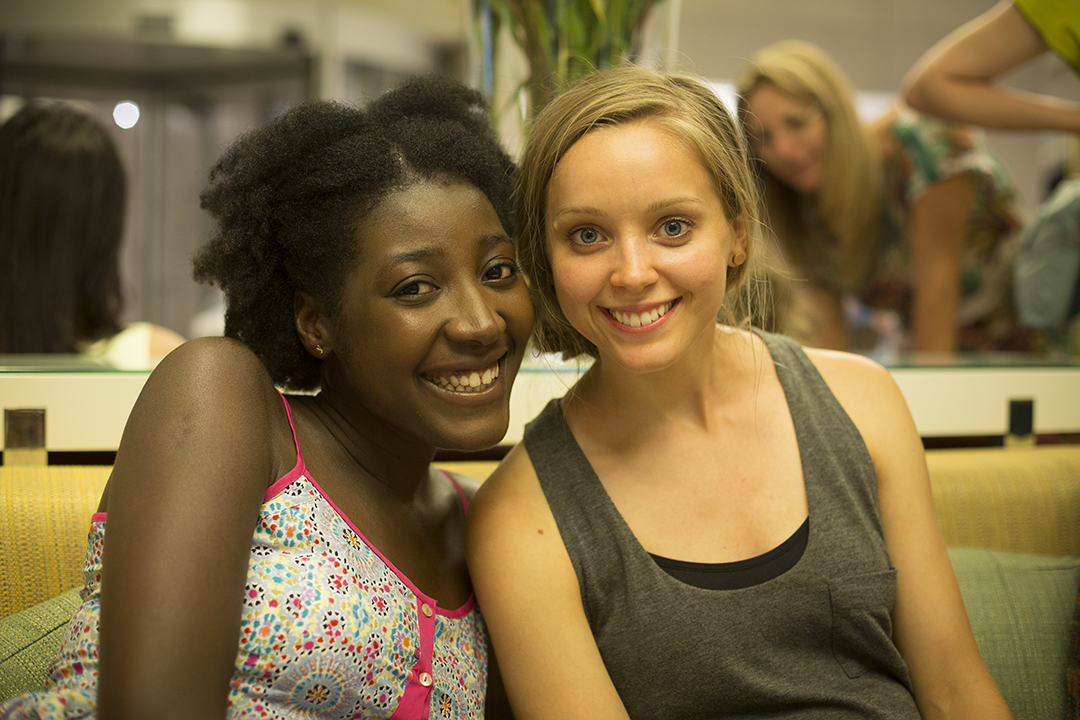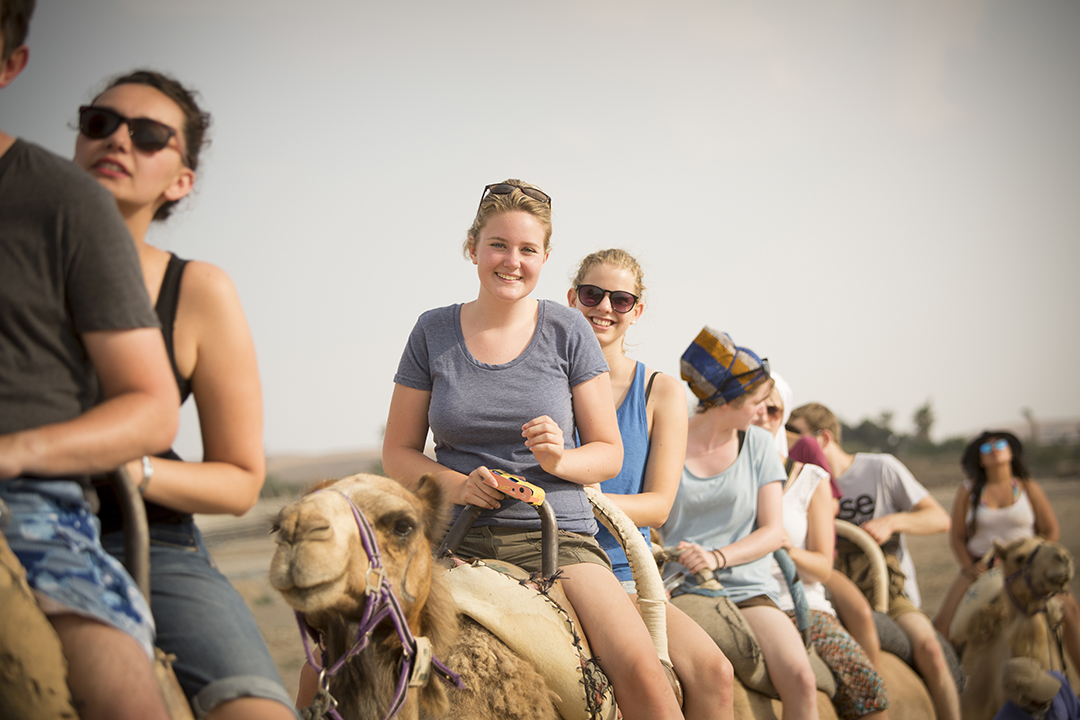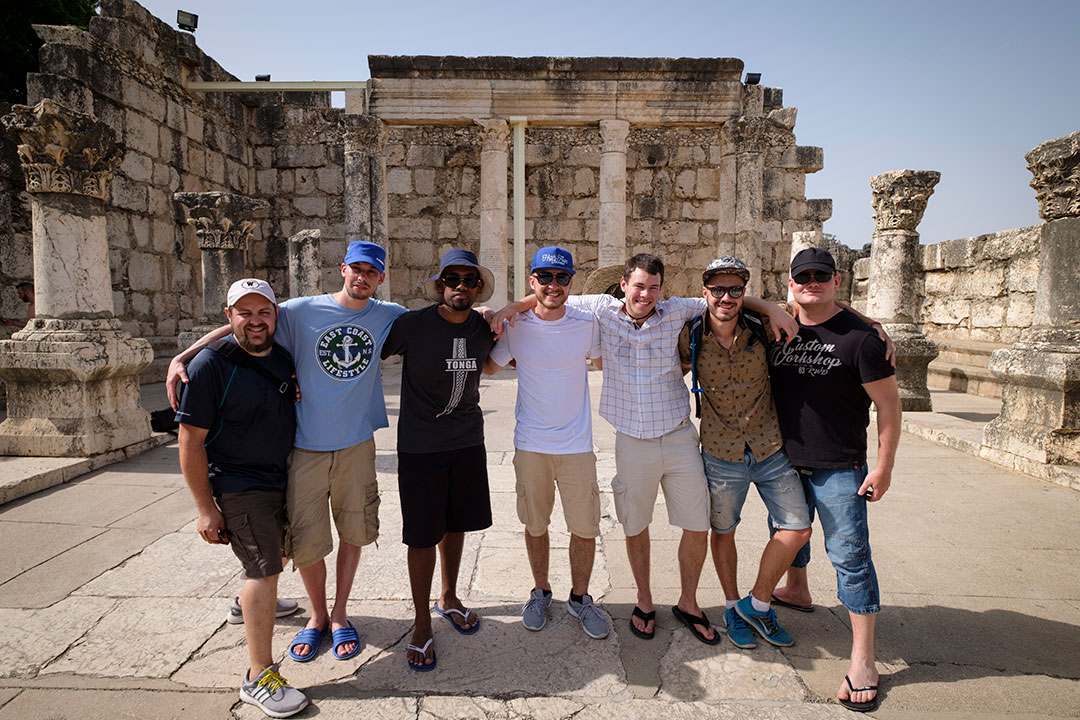 ---
2018 Promo Materials
---
For your Israel Impact display table feel free to print out the 8.5 inch by 11 inch Israel Impact Tour flyers and the 32 inch by 72 inch Roll-Up Retractable banner. You can also play the 2018 Israel Impact Tour promo video on your various media devices.  For young adults wanting to register, you can direct them to our pdf Application Form.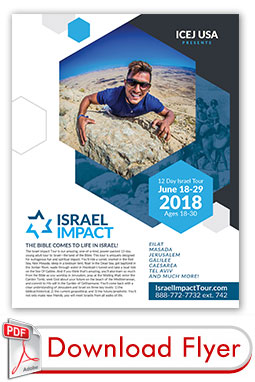 Download the 8.5 inch by 11 inch 2018 Israel Impact Tour flyer (pdf) 1.5 MB

Download the 32 inch by 72 inch 2018 Israel Impact Tour roll-up retractable banner (pdf) 27.9 MB
Download the 2018 Israel Impact Tour Application Form (pdf)
Enjoy these videos and articles about Israel as you prepare for the tour!
When the State of Israel is being slandered, we can take steps to help people understand the truth about what is really going on. Today's conflict is on two fronts – the military front, and the public opinion front driven by social media. During the Israel Impact Tour you will learn about the importance of being a voice for Israel and the Jewish people that the mainstream media rarely features. We can stand with others at the forefront of impacting individuals worldwide about Israel and the Jewish people.
What does the Bible say about Israel?
Why is Israel so important?
Why should Christians support Israel?
What can you do to support Israel?
Where is the best place for Christians in the Middle East?
The U.S. is determined to stand up to the UN's anti-Israel bias – Nikki Haley
1,400 shocking years of Islam in 5 minutes
Pre-Tour Articles
Ten Reasons To Support Israel – By Susan Michael
Justice Can Only Be Based on Truth – By Susan Michael
Why is UNESCO Trying to Erase Jerusalem's Jewish and Christian History? – By Susan Michael
How Can We Help Palestinian Refugees? – By Susan Michael
---